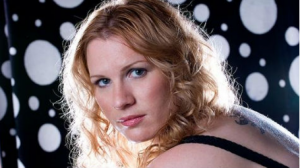 Hill Bailey
Hill got her start in radio on the U of A radio station in 1998, and moved to Colorado in 2000 to work in radio full time. 10 years away from Tucson; Hill was doing a morning show in California when she was diagnosed with an ovarian disorder. She decided to move back to Tucson to be near her family and to get healthy.  Her desire to understand the human body lead her to become a personal trainer for 3 years before she landed at KHIT.
Hill met her husband on match.com in 2010, and is always trying to convince people to do online dating. He is an exercise physiologist specializing in cardiac rehab (he's a smarty pants). They were married on the beach in Mexico 3 months after they were engaged. Usually when you get married that fast people think there is a baby on the way, but because of her ovarian disorder; babies were going to be a tall order.  So, they thought they were just fine with 2 rescue dogs until Hill turned 38 and the clock was ticking!
Like many women in her situation, Hill decided to seek fertility treatments, and is not afraid to speak openly about it. After a tough process and pregnancy, Olivia Ray Bailey was born on March 30th, 2017. Luckily her face looks nothing like Hill, but she does have Hill's creepy long fingers. Perhaps the future will lead to piano playing or basketball palming.
Now that she has a daughter, Hill is a huge fan of audio books and girls wine night out!
Q: What's your favorite thing about Tucson?
A: Tucson has all the great food, entertainment and culture of a huge city … without the long lines and waiting 🙂
---
Q: What's your favorite local restaurant?
A: Jax Kitchen is amazing!!! 47 Scott is a close second – the mixologist is an alcohol magician!
---
Q: What's your favorite vacation spot?
A: I'm torn between the snowy mountains of Breckenridge, CO (even though I'm afraid of skiing) and the warm beaches of Riviera Maya, Mexico (even though I'm afraid of the ocean)
---
Q: What's your favorite K-HIT 107.5 Artist or Song?
A: Neil Diamond can borrow my favorite pair of sparkly pants any day! I love him!
---
Q: What's your guilty pleasure?
A: A glass of pinot noir. And by glass I mean 750mL. Oh, and I will need some cheese with that – aged Irish Cheddar
---
Q: What's your favorite website for wasting time?
A: Hello FACEBOOK
---
Q: What's your biggest pet peeve?
A: People that drive UNDER the speed limit. They are also usually the person that keeps their blinker on for 5 miles but never turns.
---
Q: What's the best present you ever got?
A: I hope this doesn't sound shallow, but I LOVE my engagement ring! It isn't "Kobe Bryant apology" huge, but it is exactly what I wanted. Plus, it came with a husband – double score!
---
Q: What would you do if you weren't on the radio?
A: I'm pretty sure I would be the president. My campaign for student council in Jr. High was "Don't be a pill, vote for Hill". Slogans that rhyme are the best!
---
Q: Which decade would you rather live in: '60s, '70s or '80s?
A: The 1970s for sure!